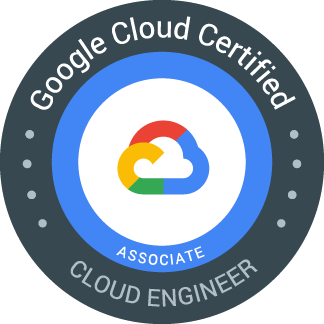 After 4 weeks preparing for the GCP ACE exam, I passed it yesterday July 11th and I would like to share with you my quick thoughts on it - the following will apply to any platform by the way!
First of all, I Chose to start with the Associate Cloud Engineer track because I believe in the importance of understanding the ins and outs of the services and getting loads of hands-on using the CLI and IaC in the learning process. Then move on, at a second stage to the Professional Cloud Architect track to learn more on the depth and breadth of the Google Cloud Platform services and capabilities.
Being already well versed in a Cloud Platform makes it easy to learn another one! My expertise on Azure and Devops has helped me hugely in quickly learning what GCP has to offer. The key to learning new skills and technology when preparing for a certification is to:
Invest the necessary time to learn (yes this is tremendously important)!
Schedule the Exam according to your capabilities and experience (in 4,6,8 weeks…) Pin the date in your calander!

This will give you a goal and will help you pace and auto-check your exam preps advancement (you can reschedule if needed)

Know the Exam objectives and plan your learning according to what you will be tested on.
Go through the official documentation and understand the use cases for all the Google Cloud Services

It is important to understand when to use, for example, BigTable, Firestore, Spanner…, what kind of Storage to use and when, Networking Options, Compute use cases: GCE, Cloud Run, GAE, GKE…

If available to you, follow online courses on ACG or LA, to name but a few.

I personnaly found that the GCP ACE course on A Cloud Guru is a great resource for the necessary foundation to learn Google Cloud for real life usage not only for the certification!

And finally, take the Practice Exam to get some insights on the nature of Questions you are likely to have in the real exam
My takeway from this learning experience is that Multi-cloud has become an Enterprise reality and that, we should understand how different Cloud Providers can offer specific solutions and services addressing unique Business needs. This way we can efficiently advise and help our Customers on their journey into the multi-cloud beyound cost optimization and redundent services by leveraging and using the best features available to them.
---