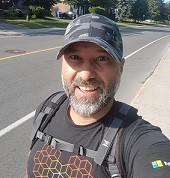 Hello and welcome to my blog!
My name is Adil Touati, an Azure certified Cloud Architect and DevOps expert living in Montréal, QC, Canada
Passionate about Tech and working currently with the following: Kubernetes | AKS | PKS | Helm | Docker | DevOps | Azure | PowerShell | Cloud Native | IaC | Linux
This blog is all about sharing with you my journey into DevOps and Cloud Native Computing. intially, we will be focusing on Azure & Kubernetes in general and AKS in particular.
---